CD Reviews
CD Reviews of six of Norman's CDs. Read what others have said about Norman's music. Norman's music appeals to all ages.
Click the CD cover to go to its reviews.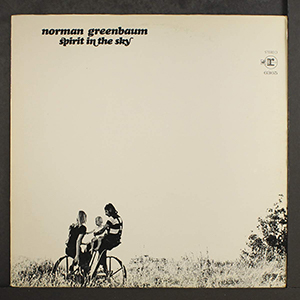 ---
Spirit In The Sky
A note from Norman:
This re-release, a long time coming, finally gives my old and new fans the opportunity to have the complete, original Spirit In The Sky album on CD for the first time.
The added tracks include the first singles I recorded for the Reprise that weren't included on the album. School For Sweet Talk and Children Of Paradise. The three acoustic tracks we found in the vault are from my stand-alone demo, before the real recording began.
They are: "Spirit In The Sky", "Save Me For A Rainy Day" and "Chocolate Milk". The radio promo was a lark. We were having a good time.
So, have yourself a good time listening and, as always, Thank you.

---
CD Reviews
Steve Roeser Note4Note
"Spirit In The Sky is, without a doubt, one of the greatest recordings of the 20th century. We're talking about, perhaps, the greatest, most definitive 4 minutes in the storied, glorious history of rock…"
---
Chris Welch Repetoire CD bio-notes
"There can be no greater joy in life than being what they call, "a one hit wonder!" And when you've created an international chart smash that just about everyone remembers, then you can hold your head up with pride. Norman Greenbaum did just that when he unleashed Spirit In The Sky on an unsuspecting world in 1970 and saw this creation skyrocket to #1 in the United States and Europe, while being named song of the year by Cashbox Magazine. The fuzz-tone guitar, hand clapping rhythm and Norman's plaintive vocals all helped capture the publics imagination.
---
Gabe Gloden Stylus Magazine (02/26/2004)
I was having dinner with my parents at a local Korean restaurant a few weeks ago, and as I was perusing the Karaoke selections, I came across "Spirit In The Sky". Guess who was listed as the artist? "Unknown". I asked my mother (one of the few boomer parents who remember the 60s) if she knew who performed the song. The moment she heard me say "Spirit In the Sky", she railed off the chorus as if she had just heard it on the radio moments before. "Going on up to the spirit in the sky. That's where I'm gonna go when I diiieee. Yeah, of course, it's a classic!"
"I know, but do you know who did it?"
"Oh, shit. Steppenwolf probably."
"No!" my father interjected suddenly as if the mere mention of Steppenwolf was enough to elicit derision from him. "It was Stealers Wheel."
They were both wrong. It was little Norman Greenbaum, whom I discovered after feeling like the song was stalking me. Was I hearing it over the car commercials at Taco Bell, or was the song just echoing in my head everywhere I went? Whatever the reason, it never left me, just as I imagine it has never left the head of anyone who's heard it since 1969.
It would be easy to discount the eerie familiarity of this song by chalking it up to the countless pop culture appearances it has made over the years. According to the official Greenbaum site, the song has been featured in movies such as Remember The Titans, Miami Blues, Contact, Apollo 13 and Wayne's World 2, national ad campaigns for companies such as H.B.O., Enron, American Express and Infiniti, and TV shows like "Beverly Hills 90210", "Arliss", "Rock & Roll Jeopardy", "Gideon's Crossing" and "The Drew Carey Show". Actually, according to Greenbaum, he can't recall how many times the song has been licensed. All of this overexposure, you might assume, would relegate this song into the pantheon of aural wallpaper classic rock, turning it into another one of those songs that's just there and nothing more. But unlike "Born to be Wild" (which sounds pretty dated), "Spirit in the Sky" just won't stop begging for attention. It's essentially a novelty song, but one of those rare novelties that define the sound of an era, but, through its seamless integration of influences, sounds unlike anything else. According to my mother, "Spirit in the Sky" was a true oddity on the radio, and one that Greenbaum obviously felt wouldn't represent him as well as the two other songs (God knows what they were) that were released well before the titular track off his first solo album.
I first noticed the cultural resonance of this apparently cheap and disposable pop song when I realized I'd hum the opening guitar riff whenever I got into my car, as if "Spirit In the Sky" was synonymous with driving. Surely the song feels like the open road. The dusty electric guitar lick that announces the arrival of what is Greenbaum's attempt at a gospel hymn conjures up Easy Rider-like imagery. Handclaps help get the congregation up out of their pews and moving, and then we get our first taste of the song's most identifiable element, that great ascending echo guitar effect that sounds as like the rock'n'roll manifestation of your soul leaving your body. Herein lies the greatest strength of "Spirit in the Sky", its uncanny ability to name check Jesus without sounding dogmatic, just rockin' and free. When Greenbaum says, "that's where I'm gonna go when I die", in the context of the music, it comes off as a personal choice he's made.
I like to imagine myself in a beat-up pickup driving along a desert highway with Norman's open coffin in the back surrounded by a choir of gospel singers. Then Norman sings to me enthusiastically about his own death. "When I die and they lay me to rest, I'm gonna go to the place that's the best. When they lay me down to die, I'm going up to the Spirit in the Sky."
In my dream, Norman sits up from his casket in the pickup bed, reaches through the cabin window and rests his callused fingers on my shoulder.
"You know man, some people, they go to the Spirit in the Sea, others go to the Spirit in the Earth. Me? Well I go to the Spirit in the Sky. And when they lay you down to die, pal, my friend Jesus is going to recommend you to the Spirit in the Sky, too. But heck, what do I know about eternal salvation! In real life, I was never then, nor have I ever been, a Christian. I'm just some Jewish musician who really dug Gospel music. So I made my own decision. I decided there was a larger Jesus Gospel market out there than a Jehovah one. You go wherever you feel like going, buddy."*
He smiles as I grasp his hand and I smile back. He slowly lays himself back into his pine box. Some members of the choir help nail the top in place, while the others just keep on clapping. Then as the sun is just about to set, we hear that echo guitar riff burst out of the coffin and off into the heavens. I put my pedal to the floor, roll the windows down the rest of the way and tune my radio to the static-y, far-off AM station to pray at the altar of one-hit wonders.
*Everything about Norman here is true.
---
Spirit In The Sky – The Best Of Norman Greenbaum Import CD
Prof Jud Cost
"I always had a sense of humor", Norman Greenbaum told me recently, discussing Dr. West's Medicine Show & Junk Band for the liner notes I was about to write for the Sundazed Music reissue of the "Eggplant That Ate Chicago". "So", he added, "I wrote songs with senses of humor." Even Norman's monster hit, "Spirit In The Sky"- a song that outwardly might seem serious-unwinds with a sly wink at 'tent show' televangelists and the "back to nature" movement sweeping the decaying hippie cult off the urban sidewalks and into the rural outback in the early '70's. Besides all that, as everyone with half an ear can tell, the song-floating on a kelp of handclaps and riffing fuzz guitar-just sounds great, the kind of thing you can never play just once. The only gripe I've ever had with Greenbaum's masterpiece is that it's just too damn short, ending at least five minutes before it should. It's one time when the "leave 'em wanting more" rule should have been suspended.
But a gunny sack full of dusty gems accompanying "The Big Hit" on this English Greenbaum career catch-all CD, also awaits those who have never had the pleasure. "California Earthquake" retains "Spirit's" fuzziness but dresses it up in Creedence flannels stained with a couple of shakes from a bottle of Bayou Pickapeppa sauce. And who else but Norman would rock out to the tale of a "Canned Ham"-with funky chick-singer vocal chorus? The tune, however, remains a must for Greenbaums's 16-bar, echo-laden lead guitar break-a signature item from this highly underrated axe wielder.
"Marcy" opens with a dramatic "Tommy" kind of lick, then sends the listener careening somewhere else entirely, ducking theremin laser bolts from out space. "Hook And Ladder", with its backwoods counterpoint, puts lit matches between the toes of McGuinness/Flint and runs like hell,. "Junior Cadillac" sound like the template Boz Scaggs used to create his his persona. And "Petaluma" is a finger-pickin' mini-masterpiece dedicated to the Egg Capitol Of The USA. This Limey package skims off the very best of Greenbaum's four classic albums: "Spirit In The Sky", "Back Home Again", "Petaluma" and"The Eggplant That Ate Chicago". There's a surprise around every bend, a chicken in every pot, and it's guaranteed to scratch itches you never even knew you had.
---
Spirit in the Sky: The Best of Norman Greenbaum [Varèse Sarabande, 1995]
Boston jughead, California dreamer, great lost hippie. He spun tales of harmless weirdness from Dr. West's Medicine Show and Junk Band ("The Eggplant That Ate Chicago," No. 52 in '66, how quickly many forget) to his royalty-investing days as a chicken farmer and goat-milk entrepreneur, the latter recounted in homely tunes like "Petaluma" and "The Day the Well Went Dry" (although I miss the agrarian escape song "I'm Campin"). Nor was "Spirit in the Sky" anything like a one-shot, as he proves on the great lost album track "Marcy," a fond and respectful ode to a chick who takes her chances (although I miss the great lost dope synonym "Tars of India").A-
---
I got this cd a couple years ago because I've always had a guilty pleasure for the song "SPIRIT IN THE SKY", which was heavily played on am radio when I was in highschool. It was a way overplayed hit back then that everybody eventually grew tired of, and it finally faded away. I also vaguely remembered his other single "CALIFORNIA EARTHQUAKE", which was a minor hit for about 5 minutes. But it was "SPIRIT IN THE SKY", with it's fuzzy guitar tone and the hand clapping rhythm that I found myself missing after all these years. To my surprise, after playing this album, I found Greenbaum to be an excellent songwriter. I expected to hear a lot of that Spirit in the Sky sound on here. But instead, this album has more of a country rock sound to it, with songs like "CANNED HAM", the hook laden "HOOK AND LADDER" (shoulda been another single), "DADDY I KNOW", with a great sounding fiddle, and a song that begs for a listen "THE DAY THEY SOLD BEER IN CHURCH". He even offers a little R&B sound with "JUNIOR CADILLAC", and a little gospel with "JUBILEE". And you get a few psychedelic rockers thrown in for good measure. This Best Of cd has a lot to offer with all his singles, b-sides, and rarities included. And there's not a clanker in the bunch. I think Norman Greenbaum, with his songwriting talents, could have been a big star. But he quit the music business for good in 1972 at the height of his popularity, and never looked back. For me, this album was a great trip down memory lane, and a pleasant surprise to boot!
Patrick Earley (Edmond, Oklahoma)
---
Some see Norman Greenbaum as just a 1960's drop out who had one big hit and then disappeared. I remember Norm as a person who played his guitar and sang in a coffee house in Hollywood, CA. He wrote music and lyrics that reflected not only the happenings of the 60's but also songs that showed just who he was and what he was about to be. In listening to this CD, I remember how good days were then and just how much people really cared for each other. His music makes me happy and I think that anyone who missed living and growing up in the 60's would love this CD. It has a great way of lifting you up. Spirit In The Sky was magical and still is. Wierd tells Norm's story during those days and his later songs like Back Home Again tell of his life later on. He is a genius with words and has a great power to make listeners want to hear the next cut, just because. I am only sorry there are not more of Norman's songs to enjoy. I hope you will give this CD a chance and I promise you, you will be glad you did! Canned Ham, Marcy, Skyline…amazing stuff.
Always & Forever (US)
---
Now if you ask me, and quite a few folks who happen to be fans of guys named Norman do now and again, this is probably the third or maybe fifth best "Norman" album of all time. (Larry Norman probably takes the cake, and the Norman Sisters and their singing mina birds is up there near the top).

Before you commence to thinking Norman Greenbaum was a one hit wonder, in the mode of so many other one-hit wonders, take a listen to this here album and see if you don't discover a certain depth that you might not have heard before. The testament to the depth of "Spirit in the Sky" is the fact that it was covered and became a hit all over again in the 80s. In fact Larry Norman done a cover himself a few years ago. (a mysterious "Norman" connection)

Junior hates this album because he don't understand it… but that boy is a s dumb as a sack of hammers, so I don't pay him no heed. The twins like it plenty good and me and Mama like to listen up and reminisce about the 70s when we do. I suggest you buy it and rediscover one of the underrated artistes of the 70s.
Cletus J. "Bubba" Juckabee Jr. (Chesterfield County)
---
It takes me back some years.Great to relax to.
Lilliemor Kalogridis
---
This CD is chock full of fun songs! From Marcy to Gondeliers, etc, etc, all I can say is good time listening. Norman never tries to get too deep and the music reflects that simplicity. But yet I give it 5 stars, because most people in music try to prove their depth every chance they get. Its nice to see someone just having a good time and producing listenable, and great music.
---
Call me weird, but when my husband and I pass on we are going to donate our bodies to science. I have told my husband that at my memorial I want the song "Spirit in the Sky" played as the memorial service is ending! I've also told him that I will do the same at his memorial service (if he should pass on first)!
---
Love it! The beats and riffs are catchy. Hardly even listen to 'Spirit' anymore and still enjoy the album.
Michael McCormick (Savannah, GA)
---
I bought this CD because I heard Spirit in the Sky and wanted to listen to it again. I'm not religious, in fact I'm an atheist but that doesn't seem to get in the way of my liking it. I imagine NG is a jew and not a devotee of JC. At any rate, to me music is music and I don't have to agree with what it is saying. Heck I enjoy Go Tell it on a Mountain despite having no Christian background. I'm like the dog you pet on the head and call him an SOB, I just eat up being petted (by music). I like Tom Lehrer's I Hold Your Hand in Mine, not just for the comic value, but I think it is good music, too. I guess I'm a little weird like NG although I am the opposite of a hippie, being a very conventional sort. I like most of the other pieces on the CD also, especially Canned Ham.
Lanoitan (US)
---
I wasn't a teenager in the 60's, but I still enjoy this album. Most of the songs are amusing, if not great. Spirit in the Sky is the big hit that most people have heard. There are other good songs though. Weird, Daddy I Know, The Day the Well Ran Dry, The Day They Sold Beer in Church and Gondoliers are strange, whimsical and entertaining. Marcy is pretty. I've seen a couple of people mentioned Canned Ham, I don't get, it's too goofy – unless Canned Ham was a 60's euphamism for something else… Hook & Ladder – which was later covered by Nancy Sinatra – has some excellent guitar work by Ry Cooder.
L. Costas (Studio City, CA)
---
The tunes on this album keep showing up … in commercials, on oldies radio, in movie sound tracks. … Just goes to show you can't keep good music down … Get this, its a keeper … a fan from Petaluma
---
this song is the first one i heard after i was told i had parkinson and i said that is the song i want played when I die it is so fitting. thank you for a song so well written and sung.
---
Spirit in the sky is the best
---
I remember listening to and liking the song "Spirit in the Sky" back in '70, about 13 years before I gave my life to Jesus Christ. Had you told me then that it was a pretentious song, I wouldn't have believed it (but then again, I wouldn't have known what "pretentious" meant). None the less, it would be interesting to know how many people, since the inception of the song, have come to know Jesus Christ as their personal Savior because of this song. It is like Paul the Apostle preached, "whether in pretense or in truth , Jesus Christ is preached, and in that I rejoice!"

I find it interesting that out of all of the songs N.G. wrote, this is the only one to have the kind of impact on the world that it had. If you were to ask Him, I don't even think J.C. would find this song pretentious. Things will happen in your life when you touch the heart of God, and I think Mr. Greenbaum did, in a big way.
J. Myers
---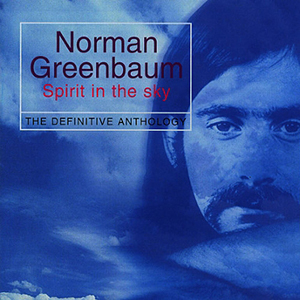 The Norman Greenbaum Anthology CD
In 1969, when this song came out, I was 10 years old, and a FM radio junkie, listening as often as I was able. It has been a favorite rock song of mine for so many years, and it holds up over time. So glad it is out on MP3 now.
K. Crsoby (Middle of Iowa)
---
Would recommend if you know and like the song from Guitar Hero, or enjoy the Eagles or other such bands.
Teresa (Houston, TX)
---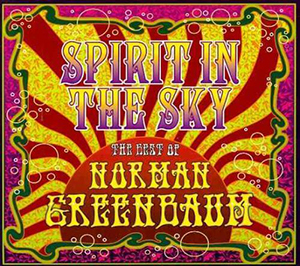 Spirit In The Sky – The Best Of Norman Greenbaum Import CD
You know what's funny to me?

Over the last 20 years I've been listening to FM radio (well that's not entirely true- the last 10 years FM radio has been terrible IMO so I only listen in occasionally) disc jockeys have ALWAYS been saying Norman Greenbaum is only famous "for one big hit". Constantly beating this fact into our head, implying it's the only song of his worth knowing.

Yes, he's only famous for "Spirit in the Sky", but guess what? The quality of his songwriting makes him a LOT better than people (particularly radio stations) have been giving him credit for, and as a result of his superior songwriting skills, it's *well* worth hearing this album.

"Skyline" is a HIGHLY memorable pop song similar to something Donovan could have created, and the crying and soothing guitar playing and beautifully sung vocal melody makes this song a clear winner in my mind. "Junior Cadillac" has a great jazzy section reminiscent of Chicago perhaps, and "Milk Cow" is a slightly hilarious take on the blues with, once again, highly enjoyable vocals and arrangements.

Ignoring this wonderful artist because you're supposed to follow the false belief he only had one good song would be a mistake of gigantic proportions. Get this album as soon as possible.
B.E. Jackson (Pennsylvania)
---
…Talk about fond memories. This album brought back some of my favorite memories from the time the album came out in 1970 and the following years. Wild things were going on during that era and I was old enough to participate in the fun.

To listen to the greatest rock song with a sax (Spirit In the Sky) is a marvelous treat no matter what type of day I am having. It always brings a smile to my face as I drift off to 1970 all over again. This is arguably the greatest song of 1970.

Hearing the dreamy song "Alice Bodine" almost puts a tear on my face. It is such a heart felt song and well written by Norman Greenbaum that it makes me aware of the pain he must have experienced during a wonderful relationship with Alice. It parallels my own experience of a relationship I had. The good thing about it is the song is so good that while feeling and remembering the past, I can only smile because I have the wonderful memories from what transpired during that time, even though the girl is gone.

Junior Cadillac, Skyline and Jubilee are icing on the cake. These are very good songs that are fun to listen to and sing along with.
oldtimebasebal
---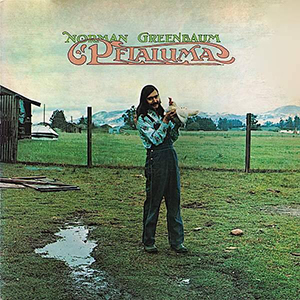 Petaluma CD
This all acoustic album features Fritz Richmond, the all time king of wash tub bass, Ry Cooder on mandolin along with guest musicians Russell DaShiell, Rich Olsen, Mark Naftalin, Norman Mayell, Bill Douglas, Cyrus Faryar, Henry Diltz and Rita Abrams on "LaLas". These sidemen add greatness to the songs from this historic album.
---
You do not have to come from Petaluma to enjoy this album!

Cindy Jenkins (Santa Rosa, CA)
---
The songs about Norman's life on the farm in between touring are as real as they get!
Bonnie
---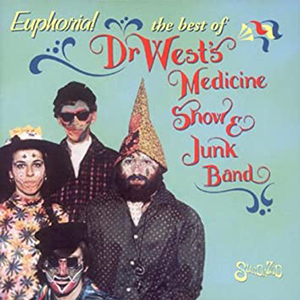 Euphoria! The Best of Dr. West's Medicine Show & Junk Band CD
Jud Cost Dr. West's Medicine Show & Junk Band
Norman Greenbaum. He's the guy with that big hit from the early '70's, "Spirit In The Sky", right? A one-hit wonder. And that's about as far as it goes for the pigeon-holers of this world, people who herd factual detritus into extrastrength garbage bags like a gardener with a leaf blower. People who "collect" old records but never listen to them. Or people who actually study to be "Jeopardy" contestants. Great though his big hit was, there's a hell of a lot more to Norman Greenbaum than a solitary entry on a record chart.
Take Dr. West's Medicine Show & Junk Band, for example. The goodtimey jug band-plus he formed in Los Angeles in 1965 is described by Greenbaum, himself, as "a cross between Captain Beefheart and Spike Jones." Although Dr. West may seem pretty simple stuff at first glance, beneath the veneer of material you might be able to get away with playing for you grandmother (especially if her hearing aid is on the fritz), you begin to pick up on the subtleties. Like in a David Lynch movie, the familiar begins to take on an eerie life of its own.
Get past the jug, the kazoos and the coconut shell rhythm section, and this starts to feel like you're taking a Chemistry final with a kaleidoscope instead of a microscope. Not to worry. You probably OK as long as your Blue Book noted some of the following insights: "Bullets La Verne" appears to be about a New York hooker; "How Lew Sin Ate" has nothing to do with the dining habits of a certain Asian gentleman; "Jigsaw" adds a fuzzed-out backing track picked up in some smoky Moroccan dive; "Daddy I Know" links arms with Berkeley rabble-rousers Country Joe & The Fish; "The Circus Left Town Today" is the unlikely offspring of Bob Dylan and Jimmy Webb; "The Eggplant That Ate Chicago", inspired by any number of B-movie sic-fi classics, remains grudgingly cryptic; and, uhhhh, "Little WhitePills"speaks for itself.
Just buying "Euphoria! The Best Of Dr. West's Medicine Show &Junk Band" on Sundazed Music isn't enough. No Cliff's Notes are currently available for this assignment. You really have to listen to it. You will never regret it.
---
This cd is the epitomy of the way things were in the mid 1960s. Dr Wests medicine show was a psychadelic junk (jug) band, employing wash boards,wash tub bass,kazoos,and various metal objects that were often whacked by drum sticks. But just in case you didn't already know,this group is where Norman Greenbaum got his feets into the music scene,about 99% of the songs on this cd were written by Greenbaum and he arranged all of them. One of the albums many highlights is the bands assault on "eleanor rigby" done junk band style,(ahh,kazoos in perfect harmony). But if you still cant fathom what this is gonna sound like, the best idea I can give you is if you've ever hear EARLY Spanky and Our Gang recordings (like the elusive LIVE album) or any thing by Mungo Jerry. If you like 60s' folkpsych BUY THIS CD
Paul Kristi (Mount Prospect, Illinois)